Saturday, September 09, 2006
It's 5am on a Saturday morning. I'd rather be sleeping, but since that wasn't happening, I guess I'll do some book reports.
Last week I finished three books, two of which were so good I didn't want them to end. In order of finish, here they are: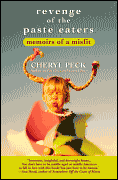 Revenge of the Paste Eaters, by Cheryl Peck. This book was passed on to me by someone at work, who raved about it. It was entertaining, but not quite as funny as I was expecting. The book is a collection of poems and essays, based on the author's life, but admittedly exaggerated in places. The funniest stories for me were the ones she wrote about her work, since she works for social services in some far away state (Michigan? Wisconsin? someplace along those lines...I can't remember). For some reason, this book was impacted by my mood. If I was in a good mood, the stories were funnier. If I was feeling ho-hum, the book became ho-hum.

Next up was Balzac and the Little Chinese Seamstress, by Dai Sijie, a Chinese author who has emigrated to France. He was "reeducated" during the Cultural Revolution, and "reeducation" is what this book is about. Two young men are sent to live in the mountains with a group of farmers. They happen upon a suitcase full of contraband (Balzac and other western literature) and a beautiful young woman (the little Chinese seamstress). How they all affect each other becomes the point of the story. I zipped through this book in about three hours, and I loved it. Much better than sitting through some boring professor lecture on the Cultural Revolution.


Finally, there's my favorite of the bunch, A Girl Could Stand Up, by Leslie Marshall. Elray Mayhew is suddenly orphaned at age six, and placed in the care of her Uncle Harwood, a macho photographer, and her Aunt Ajax, who is really Uncle Ajax and prefers to cross-dress and be an auntie. This is the story of their next ten years together, and the people who join their lives. The characters definitely make this book, as each one of them is quirky and full of issues. And the ending was totally bizarre, so it's right up my alley. I found this book in the bargain bins at the UW Bookstore in Seattle. I had never heard of it, and doubt I would have ever run across it otherwise.