Sunday, February 10, 2008
When Hamburger and I moved in together, we chose Morro Bay as our town. Since HB is a surfer, close proximity to the ocean was important. I didn't want to stay in Los Osos, and Cayucus and Cambria, being further north, were more expensive and a bit too far away from San Luis Obispo, respectively.
Morro Bay is not so affectionately called the home of the newlywed and the nearly dead. Not very nice, but true. Especially that last part. There are a lot of retired folk in these parts. In fact, we're almost surrounded on our street. It also has out of control housing prices. When I was a kid, there were two elementary schools in town. Today, only one is open.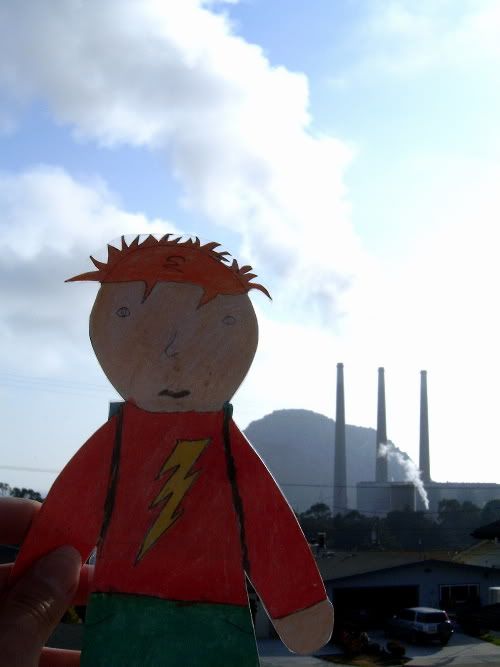 This is the view from our deck. Like I said, the stacks are hard to miss. But you get used to them. The plant is supposed to close. Or be downscaled with smaller stacks. There's a big debate about what to do. A few months ago there was an absolutely ridiculous opinion piece in the paper about how the stacks are historical and part of Morro Bay history and should be saved. Puh-lease. They're an eyesore, and they've only been around since the 1950s. They used to pump out some corrosive shit, and PG&E would have to pay for paint jobs for resident's cars.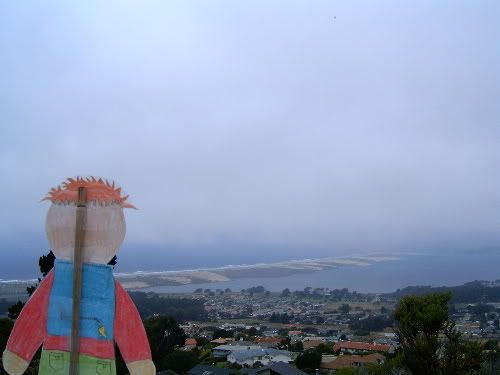 Here Stan is in Los Osos, looking out over the bay and the Pacific Ocean. If you could see it, Morro Bay would be at the end of that sand spit.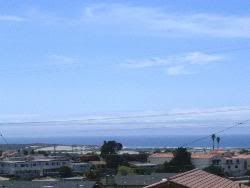 Here's another view from our deck, this time looking southwest and ignoring the stacks and that big rock.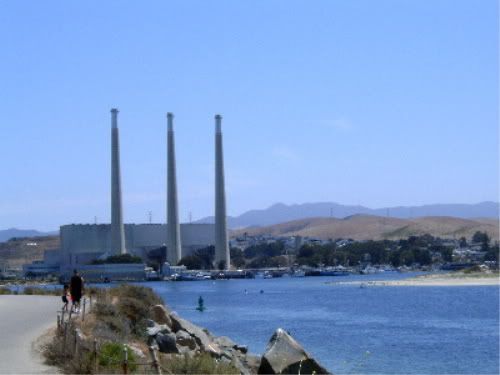 And this is the entrance to the bay. The rock is behind me. Once upon a time, there was no road to the rock. Once upon a time, you could also climb the rock. Not a good idea today. It's illegal, because there are peregrine falcons who call the top of the rock home. And they're a protected species.
So that's just an overview of my little town. Not a whole lot going on around here, but that's okay. Heck, I once lived in Dufur, OR. That makes Morro Bay look like the big city.